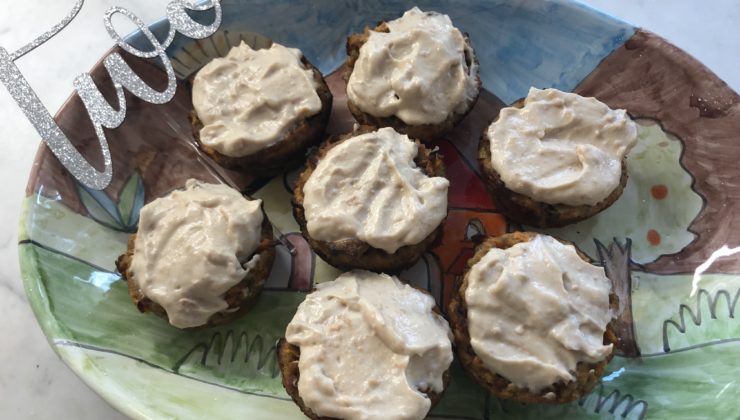 Gabe's birthday pupcakes
Vegan cupcakes (pupcakes) for your very good boy or girl! I came up with this recipe for Gabe's second birthday paw-ty and think you could adapt it pretty well based on the ingredients you have on hand.
4 cups of grated sweet potato, carrot, and/or zucchini
3 flax eggs (3 tablespoons ground flax + ½ cup water)
2 ripe bananas
2 tablespoons melted coconut oil
2 cups whole wheat flour
1 tsp baking powder
1 cup water + more as needed
Shred vegetables and put in large bowl. The grater attachment on your food processor makes this go fast.
Blend flax eggs, bananas, and coconut oil (you can pulse these together right in the food processor after you sweep out the veggies). Mix into shredded vegetables, then fold in flour and baking powder. Add enough water to moisten the flour. You might need more, you might need less. You won't get a true cake batter consistency because it'll be lumpy, but the veggies add a fair amount of water content so don't overdo it.
Oil cupcake tins or use silicone cups. Press batter into tins. They will not rise much, so fill fairly close to the top.
Bake at 350 for 18-20 minutes until the tops are slightly browned. Makes 18 pupcakes.
Frosting
1 cup unsweetened yogurt
2 tablespoons peanut butter
Blend together and apply when pupcakes are thoroughly cooled.
Comments